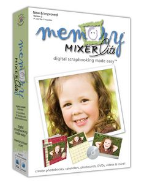 Click to enlarge image(s)
MemoryMixer is the best digital scrapbooking software we've found and we try them all! MemoryMixer Lite V2 has the same functionality as MemoryMixer Version 2 with less content. Includes 10 QuickMixes, 90 backgrounds and 400 embellishments.
I've had a great time making gift books with this software! I use the Quick Mixes which are super easy to use. You can use any digital scrapbook kit with Memory Mixer including the tons of free downloads available on the internet. I love how the pictures just pop into the scrapbook pages properly rotated and cropped! Occasionally, I'll go back and modify the original image to refine it but overall this is really cool.
Memory Mixer Software is the first digital scrapbook product to be introduced from the scrapbooking industry, Memory Mixer, from Lasting Impressions, lets you digitally bring your memories to life. With Memory Mixer, you can combine digital photos, video, music, graphics, narration and even scanned memorabilia, such as report cards, diplomas and drawings, into a single, multimedia experience. Easy even for novice computer users, Memory Mixer files can be output to DVD, CD, hardbound book, and paper to which scrapbook elements like brads, buttons and bows can be added. Memory Mixer is fun for all ages, and the digital albums can be easily duplicated and shared with family and friends.
Windows System Requirements:
Windows 2000, XP or Vista
Pentium 4, 1 GHz or better (1.6 GHz recommended) or comparable
512 MB RAM Available (1 GB or more recommended, 1 GB required for Vista users)
16 MB Video RAM (64 MB recommended)
Available hard disk space: at least 700 MB for install disk. Content disks are each 700 MB
Macintosh System Requirements:
OS X 10.4.8 or greater (with latest java update)
G4 500 MHz of faster (G5 1 GHz recommended)
512 MB RAM Available (1 GB or more recommended)
8 MB Video RAM (64 MB recommended)
Available hard disk space: at least 700 MB for install disk. Content disks are each 700 MB