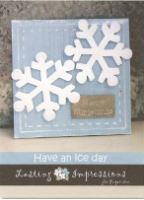 Click to enlarge image(s)
Have an Ice Day Idea Book - idea booklet for Lasting Impressions for Paper featuring Fall & Winter 2006 templates.
Templates used in the Have an Ice Day idea book:
L9432 Jingle Bell with Holly
L9433 Ornament with Snowflake
L9436 Angel
L9437 Hanging Stars
L9438 Joy
L9441 Curly Tree - New!
L9445 Prancer
L9446 Wreath
Templates sold separately.