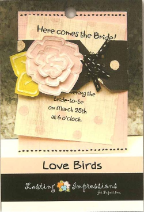 Click to enlarge image(s)
Fifteen page idea booklet for Lasting Impressions for Paper featuring Summer 2006 Wedding templates.
Templates used in the Love Birds idea book:
L9374 For Always
L9375 Engaged
L9377 I Do!
L9378 Love Birds
L9379 Flower Gift Tag
L9381 Showers of Love
L9382 A Perfect Pair
L9383 Cake Under Glass
L9307 Polka Dot Bikini
S855 Pump
Templates sold separately.